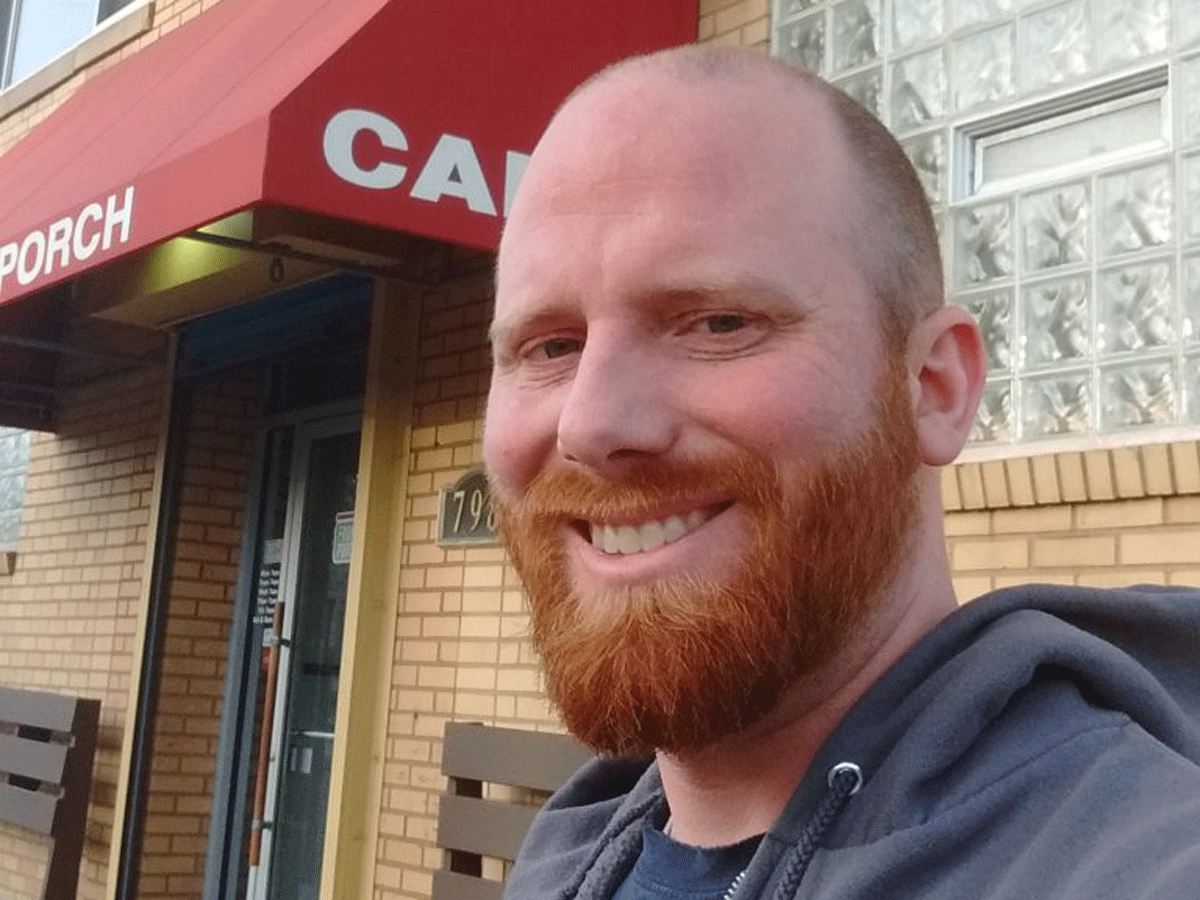 Eric Harmon has worked at South Street Ministries since 2010 as the Project Manager for The Front Porch.  During his time at South Street Ministries, Eric also co-led the Barnabas Jobs Ministry with Toni Jones and the Reentry Network with Donovan Harris.  He now works as a prison chaplain in Mansfield, Ohio. He and his wife Anne have two beautiful daughters–Evelyn and Alice. This blog is a part of the 20/20 Come and See series. 
When I was asked to write an article on my time at South Street Ministries over the last eight years, I thought "No problem, I'll get that done right away!"  Well about three months later, I have finally sat down to write.  It is not that writing is a drag for me, but attempting to encapsulate what I have seen God do in the last eight years at South Street is not straight forward–it has not been simple.
My time at South Street has been an all-encompassing experience of life, faith, death, new birth, learning, and joy.  My only regret is that I did not record more of what I experienced, not for my own personal recollection, but only to share with others what I have seen God do.  To share with others what it is like when God sends his rain on both the just and the unjust–like the time when actual rain was destroying The Front Porch before the roof was finished, and I had no choice but to release its fate into God's hands. But how could I put to words the process where my heart was broken and reformed so many times by the men that walked through our doors so that even with the sadness of each failure, my heart still anticipated the love for and success for the next guy? This article is my attempt at sharing just a small artifact that records my witness to just how good God was over the last eight years.
Less than two weeks out of prison back in 2010, I sat in the same seat that Joe Tucker often occupies when you see him working in the Café.  South Street Ministries had yet to possess the building, but in that room were many of the people who would speak into and form my life over the next eight years.  In my attempt to "be about the right thing," my Grandma reconnected me with Matt Simpson who "was about the right thing," and he quickly welcomed me into his world and the community at South Street.  The first time I met Duane Crabbs I thought "Boy, this guy drives like a nut." But he had the smell of Jesus about him, a familiar fragrance I had first gotten a whiff of during my stay in an Oklahoma prison.  Soon to follow were: Lisa Crabbs (who I thought had a refreshing sense of humor,) Toni Jones (we quit smoking together),  Ben and Adam Flossie (they became my quick friends), and Bobby Irwin (who was and still is the guy most like Jesus I have ever known).  While rehabbing the Batchel house with Matt Simpson, I met Anne Schillig.  I thought she was so awesome that I had to ask her out right away before the other guys figured it out!  She is now my wife.  God is good.
I quit my job and accepted an offer from Duane Crabbs to work as the Project Manager for the rehab of the Front Porch Café.  It was certainly a Holy Spirit moment and the Holy Spirit had found someone ignorant enough of construction and passionate enough to ignore the reality of just what bad shape the building was really in.  We would have it done in a year!  Seven years later we all said, "It is finished." Meanwhile, Nehemiah was shaking his head.  Within these years we opened the doors to the Café downstairs, created a jobs program for guys coming home from prison, and my two daughters, Alice and Evelyn, were born.  All the while, Sunday services were full of "The Presence of the Lord."  During all of this, I went to theological school, was ordained, and called to prison ministry "within the walls."  Now that I have written just some of the events and people the last eight years, I realize just how full those years were.  God is good.
My last few weeks at South Street were so bittersweet as we said goodbye to our good friend Thomas Jones and I accepted a job as a prison chaplain at Mansfield correctional for the state of Ohio.  As I told many people as I left, "I am going but I am not gone," I still try to have a sandwich at the Front Porch Café on my days off.  While my new job is a great fit for my calling, nothing could have prepared me for more than eight years at South Street Ministries loving some good people in some hard places.  God is good.
To become an unlikely partner in the work of South Street Ministries, click here.