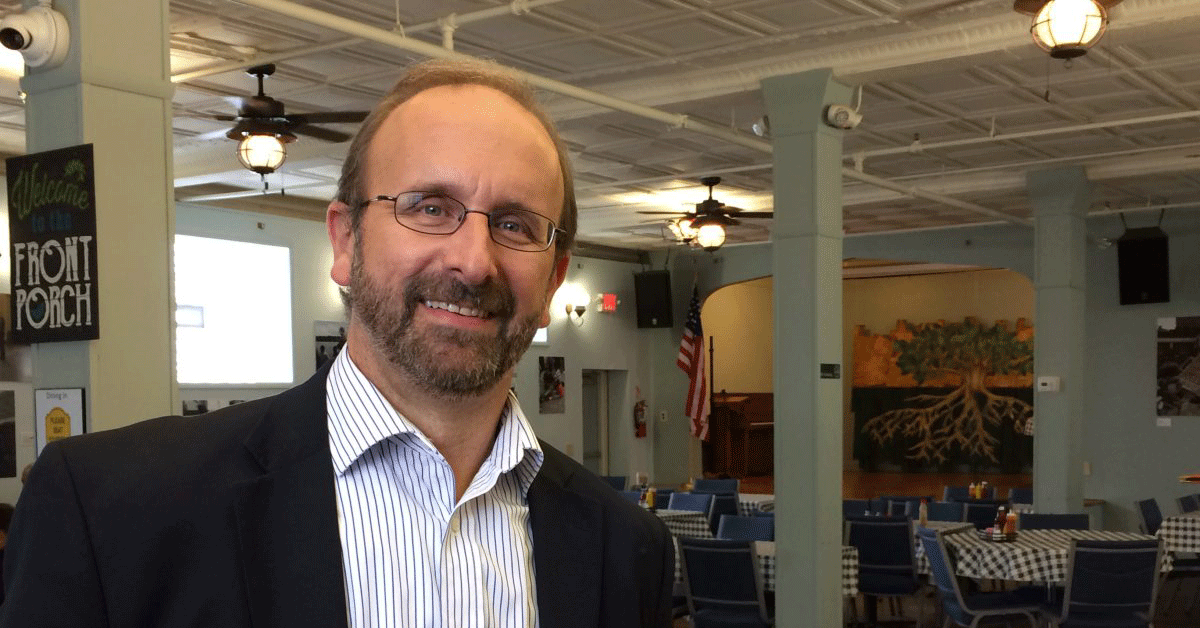 Bob Pacanovsky is an entrepreneur and was in the hospitality industry for over twenty years.  He now uses that experience to assist the Front Porch Café in a volunteer role with food and service-related opportunities.  He relishes these opportunities to help the Front Porch Café grow and prosper.  When Bob is not assisting them, he is a full-time Keynote and Conference Speaker who speaks on The Black Tie Experience- how to use the power of Hospitality to make lasting impressions. This blog is a part of the 20/20 Come and See series and a special honor to the life and legacy of Thomas Jones .
I vividly remember the meeting that I had with Thomas early in the fall of 2016–I knew that he was getting "it".  What was "it"?  It was the business part of the foodservice/hospitality business.  As I had continually mentioned to him (and the rest of the team at the Front Porch Café), when you give good food and service on a consistent basis, people were not only going to return but also ask you the question–"Do you cater?"
But, with that answer came challenges.  What would you charge, what would you offer?  How many people would you cater for?  And so on. But for the first part of 2016, as the calls were starting to come in more to the Front Porch Café to cater lunches and other events, the pricing and menus weren't there yet.  But the staff team was working hard to make sure these items were good to go, and the guy that was leading that charge (and learning the most), was Thomas.  I knew that by the end of 2016, everything would be ready to move forward with the catering aspect for the Front Porch Café.
About two weeks after that call, I received a call from Duane.  It stopped me in my tracks.  "Thomas is in the hospital and he has cancer.  And it is Stage 4."  I can't even remember what I said in response, but I started praying for him.  And I started thinking back on the friendship that two guys, from two separate worlds, formed over the last few years because of The Front Porch and South Street Ministries.
* * *
Looking back, I met Thomas when I owned my catering and event business in Akron.  But I met him through The Front Porch.  I learned of The Front Porch and South Street Ministries through my nephew and his family a few years before that.
South Street was starting up for the Front Porch Café for the second time in 2013, and I volunteered my services to help them get the restaurant off the ground.  I met Thomas as he was volunteering for them as a cook. He was pretty shy and quiet, but I also knew that he had kitchen experience.  I needed part-time staff for my business, so I asked him if he would like a job with my company as well.  What I saw was that he was a hard worker, and he wanted to learn more about food service.
That hard work and willingness paid off as he became the person in charge of the Front Porch Café just a year or so later.  At that time, I had just sold my company and told him that I would be happy to work with him and help him as he took on this new role.  My strengths have always been in customer service, as well as systems and operations, and we worked together on improving both of these for the Front Porch Café. He absorbed everything like a sponge, and while it took some time, we could both see that both the restaurant and the catering were growing.
More importantly, I found a friend that I never would have expected.  And I think I learned just as much from him about resiliency, trust, and faith as he learned about the business aspect of foodservice from me.
* * *
I kept hoping and praying for the best after I heard his diagnosis, and he kept fighting too. He always wanted to talk about how to improve the Front Porch Café when we met during this time, and he was still learning and listening to my advice, observations, and knowledge.  As I look back, he was really a true servant leader, although I don't know if he realized that or not.  He had respect from his coworkers and was always there to encourage them.  And he would lead by example.
I believe that he was the driving force in getting the Front Porch Café back off the ground.  I believe that the Café is poised for more success because of the foundation that he laid.  He is there watching over all of them and myself as well.  I think about him often, and I thank God for the time that I got to spend with him being a mentor, teacher, and most importantly a friend to him.  I received that in return and much more from Thomas.
Thomas left a legacy at the Front Porch and he made a difference in the lives of many different people by simply providing a quality meal with a friendly smile.  But he did much more than that.  He was that quiet servant leader, which is missing in some organizations today.  Most importantly to me, he was my friend.
To become an unlikely partner in the work of South Street Ministries, click here.